Strickler Knob Camping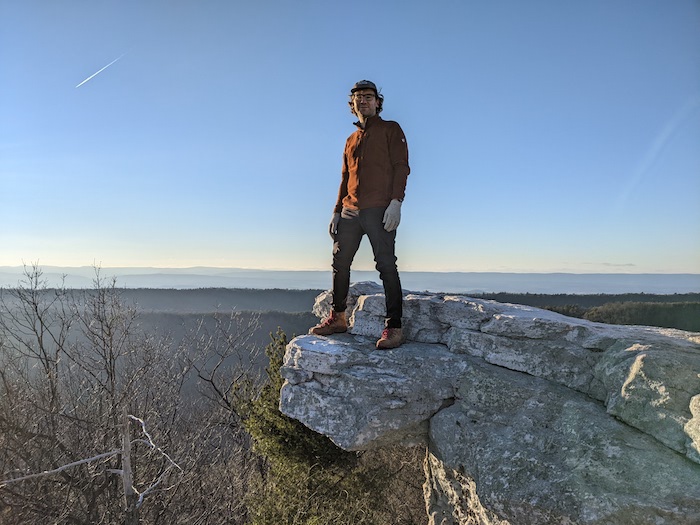 Around this time every year I start to go a little crazy since the pandemic started and I'm stuck inside all the winter. Last year I did the Dolly Sods trip which honestly ended up being a little too gnarly, so this year I wanted something a little easier. I asked a friend with a lot of backpacking experience and this was his suggestion and it ended up being an excellent one.
These are the nicest views I've ever seen in Virginia and that's including being up and down skyline drive and also on top of Old Rag. I think it's maybe the layers of mountains or being surrounded by mountains on all sides or being able to see plenty of towns, but it was the best.
This is about 30 minutes west of Luray, VA so you have an easy spot to grab supplies and good meals before and after.
We had planned to do about 6 miles a day, but the road that lets you access most of these trails is Crisman Hollow Road. It was closed on both the south and the north side I think for the winter. We parked on the north end near where it meets Camp Roosevelt Road/675 and hiked the extra 3 miles along the road in.
We ended up taking more of the road than trail on the first day and skipping Duncan Knob on the way down to still make decent time given the extra miles.
The best map to use is on hiking upward.

We hiked in on Crisman Hollow
Cut into the trails on Scothorn Gap
Switched to the Massanutten trail
Took the spur over to Strickler Knob and there's a really good campsite along here where we dropped our bags and then hiked out to the excellent views.
The next morning we kept going on the Massanutten trail and then took Gap Creek trail back over the mountain to Crisman Hollow

The trails are mostly really easy and wide except for the bit out to Strickler Knob which is real rocky and a little scrambly towards the end. Most of the trails are 6 ft wide except for some parts of the Gap Creek trail on the east side.
There were plenty of spots to get fresh water except for when you're up top near Strickler Knob
I'll probably head back for a day trip to checkout Duncan knob sometime in the spring
The rules for hiking in George Washington National forest are pretty permissive and can be found here.
Route
Day 1
Day 2
Photos