Felt F85X Flatbar Bike
I had been riding a used 2013 Cannondale Quick SL3 as my commuter/camping bike for about 5 years. The bike has been perfect, but I'm lazy and don't clean it often and had managed to wear through the brake tracks on 2 sets of wheels and didn't want to buy a third. My new commute also takes me through Rock Creek Park at night and I wanted better brakes for wet weather and almost hitting deer a few times.
I had been looking at building up what I wanted which was pretty much just a nice flatbar commuter/bikepacking setup with hydraulic brakes, but buying all the parts and putting it together would have come in at north of $2,500 and since this is a bike I lock on the street sometimes I didn't want to spend that.
When I built this bike there was surprisingly a very low number of off the shelf bikes for "I want a 1X drivetrain, hydraulic brakes, flat bars, and frame mounts for a rear rack" so I hunted for something that was close and then planned to swap parts. I found a Felt F85X CX bike on Craigslist which was really close to what I wanted and really liked the color (Snozberry). I picked it up and replaced the following on it ending up with exactly what I wanted for around $1,000.
Original Bike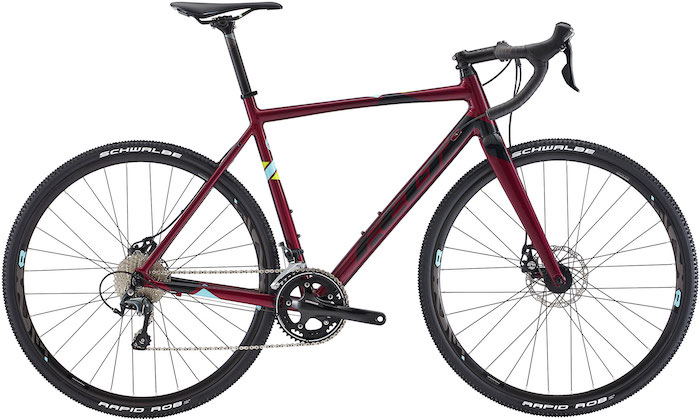 Parts All Swapped Out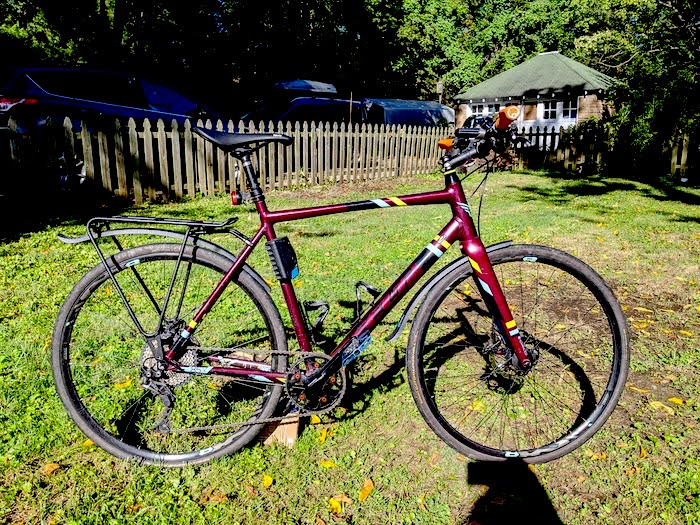 Build Details
Swapped on a rando MTB flatbar from the bike coop and ended up cutting it down several times until my shoulders stopped hurting riding it.
Went with orange Ergon GA3 Grips. These have a nice little lip to better rest your palms on than typical MTB grips.
The drivetrain is 11 Speed Shimano SLX which is absolutely the way to go for a simple cheap 1X conversion on any bike. Running a Wolftooth 44T chainring upfront to a 42T cassette in the back. This gearing works great for me in the city, but for long distance touring with a fully loaded bike, I'd probably want to go down to a 40T in the front. This also has the 1X specific Wolftooth chainring bolts in blingy orange.

My only complaint is that on higher tier Shimano shifters like XT or XTR you can press the upshift lever forward and it will shift up 2 gears in a single press. The SLX shifter lets you press forward the same way, but only gets you 1 gear instead of 2. This is really nice when you hit a downhill and want to crank real hard.

Continental 32MM Gatorskin Hardshells Tires have been bombproof for me. I don't think I've gotten a flat on them in 5 years of city riding as long as they're changed out when they are worn down.
Fabric Scoop Sport saddle cause it's cheap, durable, and well padded. I run Fizik Antares saddles on my other two racier bikes, and tried one on this bike, but it didn't work for more upright riding and horrible DC roads.
Shimano MT520 brakes which are an interesting new option from Shimano. They are 4 piston brakes with great stopping power for cheap, but aren't part of the other higher teir Shimano MTB parts lines because they seem to be made more to target the e-bike market. I run Maguras on my mountain bike which I really like, but are finicky to get working right and I wanted something dead simple reliable on this bike that was easy to service if I was ever out on a long trip. I also went with Shimano XT Ice-Tech Rotors which are higher end than probably anything else on this bike, but well worth it in terms of stopping power.

I had a ton of trouble with the rear brake which ended up being contaminated or glazed over pads. I ended up getting these cheapo Gekors ceramic pads which work really well for dirt cheap compared to the Shimano D02S pads that came with the MT520s.

PDW Sodapop Fenders since I wanted something light without additional bracing and was OK if they weren't the best fenders for blocking water.
Funn Mamba Pedals SPD compatible pedals. I've ridden these for a while and they are some of the only 1/2 clip pedals that are actually decent on the non clip side with proper metal pins. I really dig these since sometimes I'll take the bike on a quick spin to the hardware store, but other times I'll want to ride it all day, and then ride to a bar in flip flops.
Bontrager Back Rack. These are nice and wide and the adjustment to mount to the seat stays is easier than most other racks.
PZ Racing Anti-Theft Skewers. These are great, but don't seem to be available for sale anymore. I honestly don't care about thru-axle vs QR axle performance on this bike and I'd rather my wheels not get stolen. These skewers have a nice little key sized tool to take them off which I always keep on my keychain.
The Blue/Black blob on the seat tube is for a Thule Ride Along rear seat mount which has been great for hauling my kiddos. This thing blocks a water bottle on the seat tube so I run a Wolf Tooth B-Rad adapter to move the bottle cage lower.
The bike is pretty settled in now the way I want it. The only thing I may swap is some 27.5" tubeless wheels onto it with some wide trendy gravel tires for smooth rolling on gravel races/rides, but it doesn't really make sense since 95% of my riding is just in DC on pavement.